Our Philosophy
Service, Creativity, Quality and Value

Service
First and foremost, keeping our clients satisfied is the only way for us to stay in business.
The First Rule of design is consistency of elements and the Second Rule of design is that the client's wishes overrule the First Rule and any subsequent one.
Our work days and business hours are flexible.
Make our clients look good.
Changes are good.
Our clients deserve the best advice we can give, especially regarding cost
Creativity
Apply a rigorous analysis, synthesize an effective solution.
It doesn't help to be pretty if you do not perform well.
It doesn't help to be pretty and perform well, if you can't afford it.
We are not here to open new artistic paths, but is always fun when the client's needs require us to do so.
Quality
Quality is not measured by cost but by performance.
Quality of Design is imperative.
Keep up with state of the art tools and materials.
Social and environmentally conscious.
Quality and value are not opposites.
Value
To overcharge will only bring our demise.
To cheapen will also bring our demise.
Keep our overhead low
It is better to make a small profit for many years to come, than a large one just once.
Value and quality are not opposites.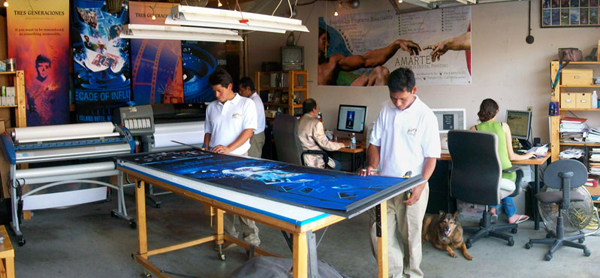 Our Team
| | |
| --- | --- |
| | Alejandro (Alex) Mendoza, after graduating from the Graphic and Industrial Design School of the Universidad del Nuevo Mundo and working as a Sr. Art Director for Mexico's branch of the advertising agency, Campbel-Ewald, moved to the USA to attend the Film School of Columbia College from which he graduated in 1985. From 1987-96 he was Director of International Sales, Marketing and Distribution at Vestron, Inc. Afterwards, Alex joined Live Entertainment, for 3 years in the same position; Saban Entertainment, for one year to manage their Home Video division and Morgan Creek International, handling international sales, marketing and distribution for 5 years. In 2000, Alex founded the entertainment consulting firm, Alex Mendoza & Associates. He is a Scholar level member of the Gerson Lehrman Group's Media Council of Advisors, a consulting pool of industry experts to more than 850+ financing and money fund managers firms. He also acts as the Editor for the Latinos In The Industry online newsletter. In 2002 he founded the design and digital printing studio, AMARTE, which he has positioned as an event image program specialist studio. |
| | Adriana Mendoza, after a succesful and long career as an administrator in the transportation (ContainerFreight/EIT, LLC) and financial (ING Financial Advisers, LLC) industries, joined the AMARTE team as a managing partner to satisfy its growing need for an experienced and full time administrator. She is a graduate of the Centro de Administracion Industrial in Cali, Colombia. |
| | Ana-Cecilia Mendoza, recent high school graduate and beginning her studies at the School of Television, Film, and Media Studies of CalState LA, has proven to be a budding web site designer. Her addition to our team allows AMARTE to now add web design to its offerings. |
| | Coqui, the ferocious guard dog (actually not even the mailman is afraid of him anymore). It is well known that he is kept because he is the only one that doesn't complain about Alex's bad jokes. |
| | |
Links
Alex's LinkedIn Profile
(includes excellent recommendations by clients)
Alex Mendoza & Associates (Entertainment Consulting Firm, website under re-design)